News
Mikhail Baryshnikov presented with the RAD's prestigious Queen Elizabeth II Coronation Award by Her Majesty The Queen Consort
17/11/2022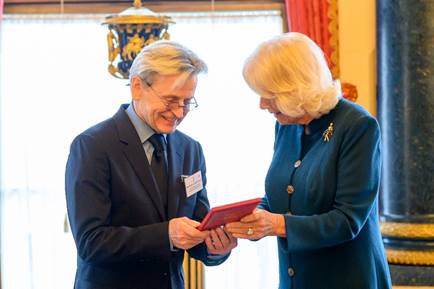 Michail Baryshnikov and Her Majesty The Queen Consort
LONDON The Royal Academy of Dance (RAD) today presented its highest honour, the Queen Elizabeth II Coronation Award, to Mikhail Baryshnikov. The award was bestowed by Her Majesty The Queen Consort at a special ceremony at Buckingham Palace, it was the first solo presentation Her Majesty has undertaken at the palace since succession.
Widely celebrated as one of the greatest dancers of our time, Baryshnikov has been presented with the QEII award in recognition of his immense contribution to ballet and the wider world of dance. His landmark career as a dancer saw him perform with leading companies around the world, including the Bolshoi Ballet, The Royal Ballet, American Ballet Theatre, the New York City Ballet and National Ballet of Canada, before expanding into the world of film, theatre and television. He continues to invigorate the arts landscape as Founder and Artistic Director of Baryshnikov Arts Center, a creative space for artists around the world.
The Queen Elizabeth II Coronation Award, the RAD's highest accolade, was instituted in 1953, to celebrate the year of the coronation of Queen Elizabeth II. Dame Adeline Genée, founding President of the RAD, created the award to be presented annually in recognition of outstanding services to the art of dance. The first recipient in 1954 was Dame Ninette de Valois. Since then, it has been awarded to many of the greatest names in dance, in recognition of outstanding services to the art form. Former recipients include
Dame Marie Rambert, Sir Frederick Ashton, Dame Monica Mason, Rudolf Nureyev and Carlos Acosta CBE. It was most recently awarded to David McAllister AM in 2021.
1953 also marked the year Queen Elizabeth II became Patron of the RAD, succeeding her grandmother Queen Mary. The RAD will forever be grateful for the long and unwavering support HM Queen Elizabeth offered during her patronage, and is honoured to be presenting this award in her name. Furthermore, the RAD is delighted that Her Majesty The Queen Consort presented the QEII award this year. Her Majesty has a long-standing relationship with the RAD and in her former role as The Duchess of Cornwall, opened the new Royal Academy of Dance global headquarters in March 2022.
Mikhail Baryshnikov said: "I am deeply humbled to accept the Queen Elizabeth II Coronation Award from the Royal Academy of Dance and Her Majesty The Queen Consort. It is a true honour to be added to such an impressive roster of recipients, many of whom I am proud to have worked with, and call friends."
Dame Darcey Bussell DBE, President of the RAD said: "Mikhail Baryshnikov is one of the most famous male ballet dancers in history. He has been an inspiration to so many young, aspiring dancers across the world. Fearless in his pursuit of artistic expression, he has transferred his many talents into other genres, from acting, film, television, documentaries and more. It is a privilege to award him the Queen Elizabeth II Coronation Award, the highest honour that the Royal Academy of Dance can bestow."
Tim Arthur, Chief Executive of the RAD said: "It is such an honour for us to present Mikhail Baryshnikov with the Queen Elizabeth II Coronation Award. The Royal Academy of Dance's mission is to inspire the world to dance and I think there are few people who have achieved this in a way that he has, through his incredible career as a dancer and now Artistic Director."
© All rights reserved