News
Egon Madsen 80: A Gala celebration in Stuttgart
01/08/2022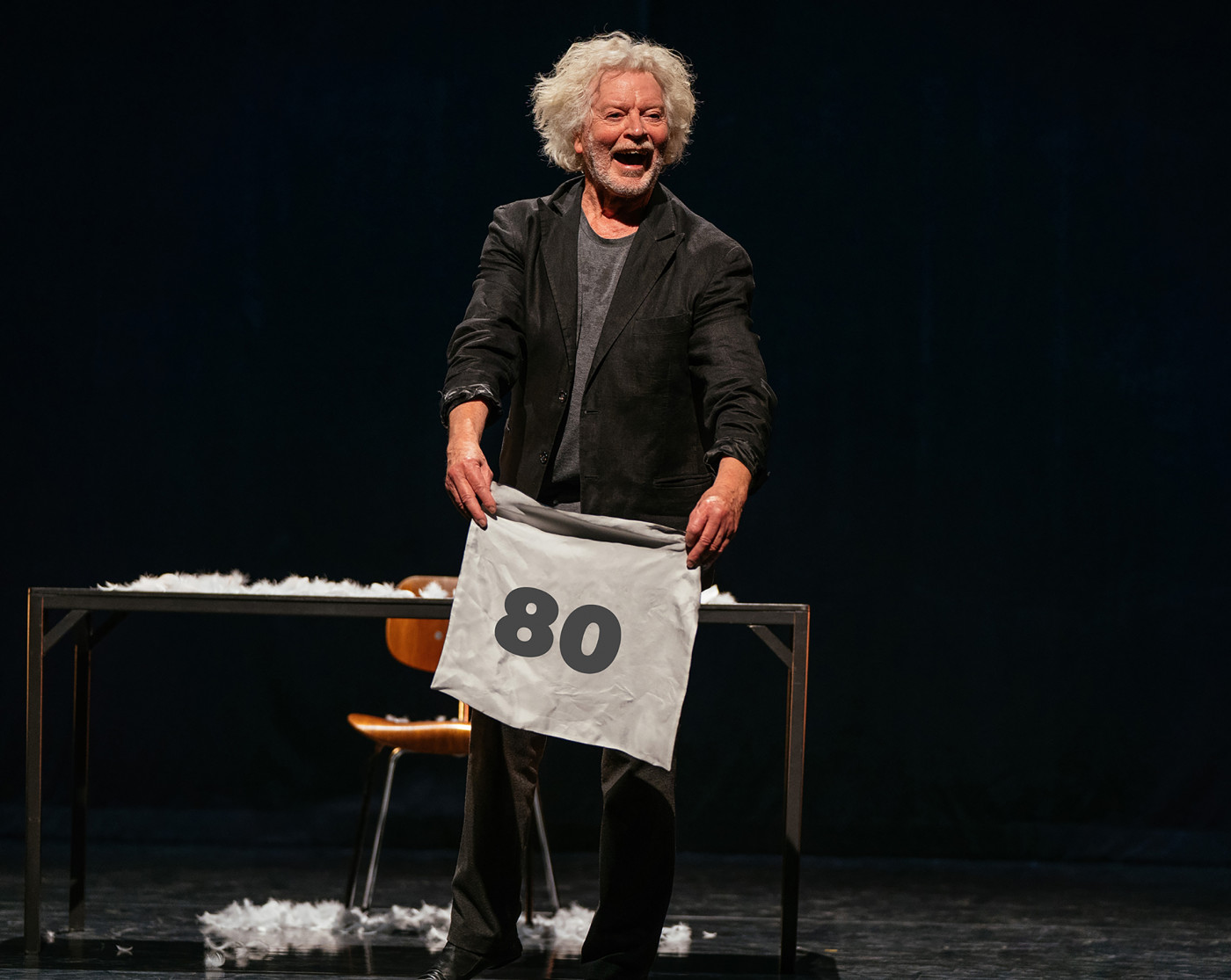 Egon_Madsen_80_Jahre_Foto_Simon_Wachter.jpg
STUTTGART On August 24, 2022, Egon Madsen will be able to celebrate his own personal ballet miracle – his 80th birthday and 70 years on stage! His life is a "dance life", as his biographer Dagmar Ellen Fischer writes. It is just as true to say: This artist has given at least as much to dance as dance has given to the artist ...
Madsen's most important engagements were with the Stuttgart Ballet, where the exceptional performer from Denmark helped shape the golden era of John Cranko (1961 to 1973), and The Hague, with the artistic direction of the unforgettable NDT 3 for dancers over 40. In 2007, Madsen's life came full circle in Stuttgart: It was the sensational success of Christian Spuck's Don Q. for the dream team Eric Gauthier and Egon Madsen that encouraged Theaterhaus director Werner Schretzmeier to establish Gauthier Dance//Dance Company Theaterhaus Stuttgart.

As a company coach, Madsen has provided advice and support for Eric Gauthier and the dancers from the very beginning. No wonder Theaterhaus wants to say thank you – and is hosting a big celebration for this special company member on his double anniversary.
No wonder either that Egon Madsen will take to the stage at the Gala on September 28, 2022! With dance partner Milena Twiehaus (currently with Emanuel Gat Dance), he will perform Hans van Manen's masterpiece The Old Man and Me, as well as scenes from Mauro Bigonzetti's rousing Cantata. For the Gauthier Dance version, the Italian star choreographer had created a new role specially for his friend and neighbour.
What else is on the programme? There will be moving tributes from the Stuttgart Ballet, the John Cranko School, Gauthier Dance and the Gauthier Dance JUNIORS, as well as video impressions of Madsen's amazing career and conversations with artist friends Tamas Detrich, Friedemann Vogel and Ivan Cavallari. The gala will be hosted by Eric Gauthier.
In November 2002, Egon Madsen is returning to the Theaterhaus stage in a full-length piece – in the revival of EGON king MADSEN lear, Mauro Bigonzetti's beautiful dance monologue for his friend, neighbour and brother in spirit.


Wednesday, September 28, 2022 at 7:30 p.m.
Egon Madsen 80. The Birthday Gala
Theaterhaus Stuttgart, T1

Host
Eric Gauthier

Dance
Egon Madsen and Milena Twiehaus in Hans van Manen, The Old Man and Me
Gauthier Dance//Dance Company Theaterhaus Stuttgart with scenes from Mauro Bigonzetti, Cantata feat. Egon Madsen as well as Eric Gauthier, ABC
Gauthier Dance JUNIORS//Theaterhaus Stuttgart with Nacho Duato, Rassemblement
The Stuttgart Ballet with scenes from John Cranko, The Taming of the Shrew (Gremio), Onegin (Lenski) and Brouillards (Bruyères)
John Cranko School with a pas de deux from Uwe Scholz, Die Schöpfung (The Creation)

Conversations
with Tamas Detrich (Artistic Director, Stuttgart Ballet), Friedemann Vogel (Prinicipal Dancer and Kammertänzer, Stuttgart Ballet) and Ivan Cavallari ( Artistic Director, Les Grands Ballets Canadiens, former principal dancer of The Stuttgart Ballett)

Gala triple: In 2022, as in 2012 and 2017, Theaterhaus Stuttgart is hosting a dance celebration for the great artist, friend and company coach of Gauthier Dance, to mark his 80th birthday and formidable 70th stage anniversary. For someone like Egon Madsen, it is of course out of the question to simply let himself be celebrated, like any other 80-year-old dancer. As a result, he is very actively involved in the extensive programme: together with dance partner Milena Twiehaus in Hans van Manen's famous pas de deux with the tongue-in-cheek title The Old Man and Me as well as together with Gauthier Dance in scenes from Cantata.
In addition to Mauro Bigonzetti's signature piece, there are two other contributions by the hosts: the Gauthier Dance JUNIORS thank their company coach with Nacho Duato's emotional pas de deux Rassemblement. Eric Gauthier's homage to mentor and great comic performer Egon Madsen is his choreography ABC. The humorous solo takes the audience through the letters of the dance alphabet – from A for Arabesque to L for Lift to V for Variations. But Gauthier wouldn't be Gauthier if, among the whole technical vocabulary, he hadn't sneaked in a lot of expressions taken from the real life of a dancer ...
Of course, the Stuttgart Ballet will not miss the opportunity to pay tribute to the legendary principal dancer. With scenes from John Cranko's The Taming of the Shrew, Onegin and Brouillards, three of Madsen's signature roles that he danced in the world premieres, will come to life again. The John Cranko School also joins in the congratulations, with a pas de deux from Die Schöpfung (The Creation) by Uwe Scholz.

Besides the dance, there will also be plenty of time for conversation. Hosted by Eric Gauthier, Egon Madsen will talk with Tamas Detrich and Friedemann Vogel of The Stuttgart Ballet as well as the current head of Les Grands Ballets Canadiens, Ivan Cavallari, whose talent Madsen recognised and promoted early on. Looking forward, though, is just as important to Madsen as looking back. For he takes his task of inspiring a new generation and making them fit for dance very seriously. As an exceptionallly kind and warm-hearted coach, he generously passes on his knowledge, not only to the dancers of Gauthier Dance and, more recently, the Gauthier Dance JUNIORS. He also regularly teaches and coaches young talents at the Accademia Antonella Bartolacci Danza Riccione in his adopted Italian home in the Marche.

Videos compiled by Fritz Moser will round off the evening. The former SWR cameraman recorded all the Gauthier Dance productions with Egon Madsen and united these performances in a moving cinematic family album.


© All rights reserved