News
Back to the Future with Sleeping Beauty
Hamburg Ballet opens the season with a new production of the classic
14/12/2021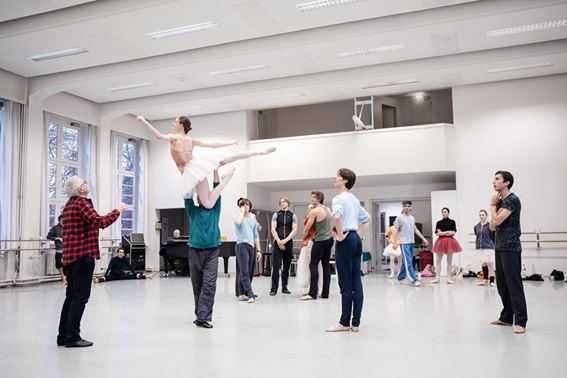 John Neumeier in rehearsal for Sleeping beauty ph.K.West
HAMBURG According to the season's motto "Back to the Future", The Sleeping Beauty returns to the repertory after 14 years as the 2021 winter premiere. John Neumeier worked on this classic during his first years as ballet director in Hamburg, and his version of The Sleeping Beauty celebrated its premiere on July 16, 1978.
More than 40 years after the premiere, he now presents a new version on December 19, which was created in close collaboration with costume and set designer Jürgen Rose: "The Sleeping Beauty is an important repertory piece, a significant work in the tradition of classical ballet. In the season before I retire as artistic director of the Hamburg Ballet, I would like to document my final thoughts on this work and share them with my Hamburg audience."
The leading roles of Aurora and Prince Désiré will be danced by Ida Praetorius and Alexandr Trusch on December 19, 21 and January 6. Ida Praetorius, previously Principal Dancer of the Royal Danish Ballet, joined the Hamburg Ballet as Principal in early December. On December 29, 30 and January 13, Madoka Sugai and Alessandro Frola will interpret the main characters. Emilie Mazoń and Jacopo Bellussi will take over on January 7 and 9. Alina Cojocaru as Guest and Alexandr Trusch will dance the leads on January 10 and 15.
Long-time Principal Hélène Bouchet, who will end her dance career at the beginning of next year, gives one of her farewell performances as the "The Rose" on December 19 and 21.
© All rights reserved