News
Hamburg Ballet: new creations announced for the coming months
John Neumeier will create a Beethoven project II for the whole ensemble
26/10/2020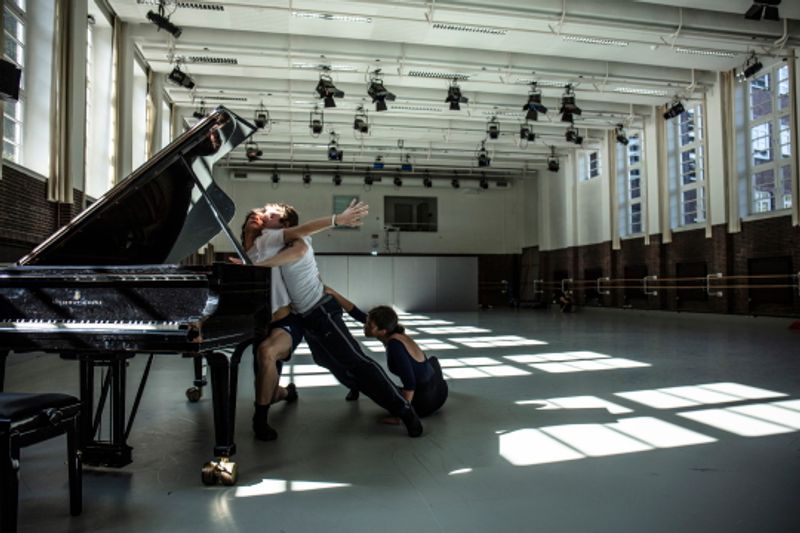 In rehearsal for "Beethoven Project II" Jacopo Bellussi, Aleix Martinez and Yaiza Coll (ph. Kiran West)
HAMBURG The Hamburg Ballet continues to produce. Compelled to rethink the original plans of the 2020/21 season John Neumeier decided to oppose the virus and its obligations in a creative wayand already in the summer he created Ghost Light, work for the whole company - used with the restrictions dictated by the situation: a symbolic work of great success (on the next issue of Danza&Danza International, available on the app, report by Maggie Foyer).
Now December 6, for the traditional season opening, Neumeier will sign a new creation for the ensemble Not Beethoven's Ninth symphony, previously announced, but a Beethoven Project II in which the American choreographer continues his creative investigation dedicated to the various musical forms of the composer. For the occasion on the podium of the Hamburg Philharmonic there will be Kent Nagano; soloists announced are Klaus Florian Vogt (tenor), Mari Kodama (piano) and Anton Barakhovsky (violin). The costumes are by the fashion creative Albert Kriemler.
Scheduled in February is the new Hamlet, in which Neumeier will make a synthesis on a character to which the choreographer has been returning regularly for a long time. This production to music by Michael Tippett , inspired by Shakespeare and Saxo Grammaticus's texts (the original source of the myth of the unhappy prince) is in fact the fourth dedicated to him by Neumeier, after Hamlet Connotations created for Baryshnikov, Eric Bruhn, Marcia Haydée and Gelsey Kirkland at the ABT in 1976, and the two versions of the full evening Hamlet created in 1985 and revised in 1997.
© All rights reserved