News
National Dance Awards ceremony at The Coronet
With Danza&Danza International
04/06/2023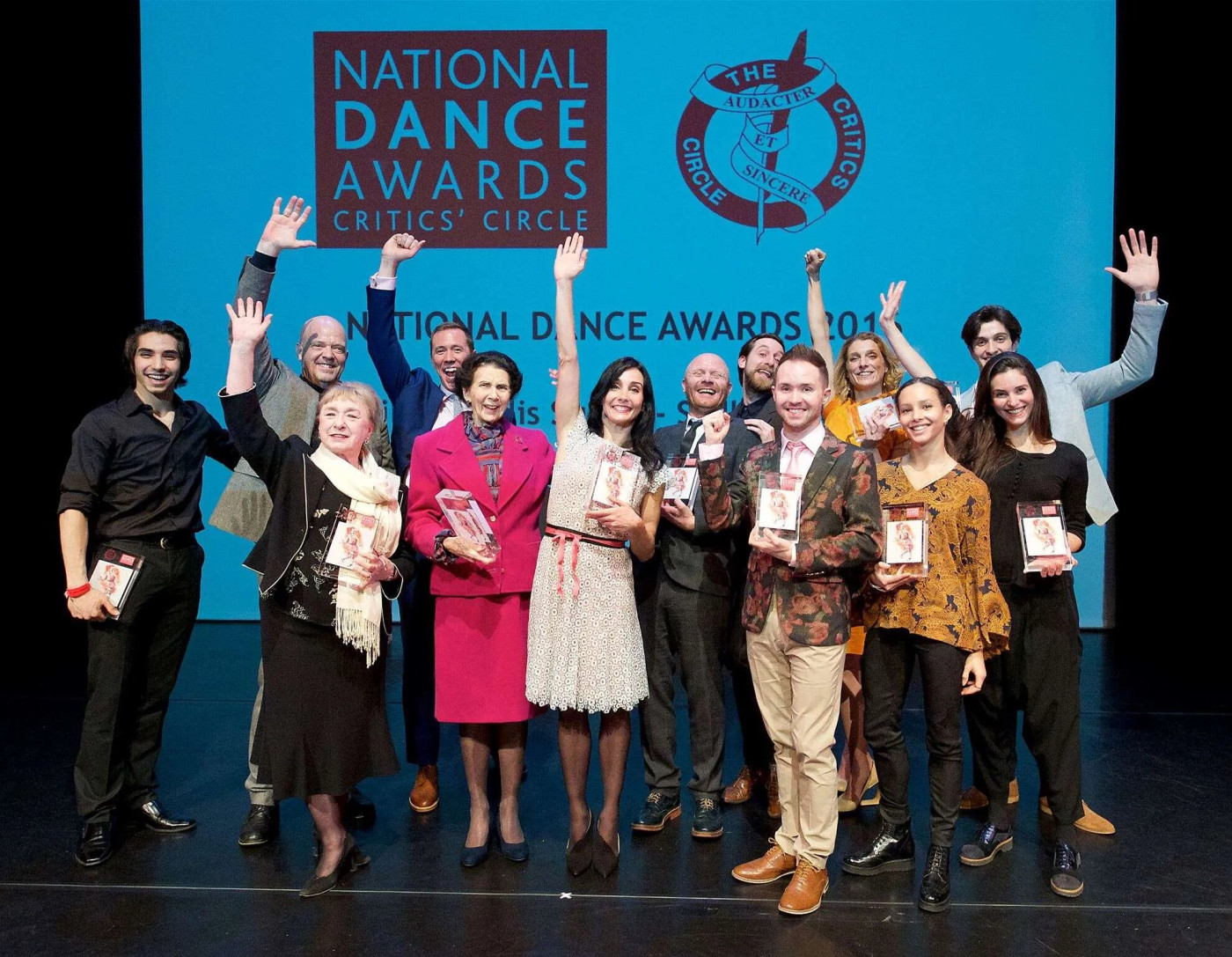 main-dance.jpg
LONDON The Critics' Circle believes impartial, professional criticism of the arts is an essential ingredient of a healthy society. The Circle today has 503 members shared between Theatre (117), Music (91), Film (151), Dance (57), Visual Arts (47) and Books (40). Admission to the Circle is by invitation from the Council.
Each year since 1988, the Circle has presented the Rosebowl for Distinguished Service to the Arts to an artist of conspicuous achievement. In 2019 the members voted for David Hockney and in 2020 for Dame Janet Baker. The sections make their own awards in ceremonies which are significant social occasions, and hold periodic meetings and lunches to discuss their awards, propose new members, debate current issues and meet artists.
The 23rd NDA National Dance Awards ceremony organised by the Dance Section of the Critics' Circle in each year of this Millennium to celebrate the vigour and variety of Britain's thriving dance culture is being held on Monday 5th June at The Coronet Theatre in London supported by Danza&Danza International together with Stef Stefanou, Harlequin Floors, Tendu, Assis Carreiro, Celeste Fenichel, Lee McLernon, The Ballet Association, The London Ballet Circle, The L&M Trust and The Critics' Circle.
Below the short-listed nominations for the National Dance Awards (#NDA23). The qualifying period for performances was between 1st January and 31st December 2022. The short-listed nominees are taken from nominations made by members of the Dance section of the Critics' Circle. In total there were 387 companies, choreographers, performers and other creative artists nominated (up from 355 in 2021), from which the short-listed nominees are:

DANCING TIMES AWARD FOR BEST MALE DANCER
William Bracewell (The Royal Ballet)
Jeffrey Cirio (English National Ballet)
Francesco Gabriele Frola (English National Ballet)
Jonathan Goddard (Freelance artist)
Brandon Lawrence (Birmingham Royal Ballet)

BEST FEMALE DANCER
Francesca Hayward (The Royal Ballet)
Momoko Hirata (Birmingham Royal Ballet)
Fumi Kaneko (The Royal Ballet)
Katja Khaniukova (English National Ballet)
Laura Morera (The Royal Ballet)

STEF STEFANOU AWARD FOR OUTSTANDING COMPANY
Birmingham Royal Ballet
English National Ballet
Nederlands Dans Theater 2 (NDT2)
Scottish Ballet
The Royal Ballet

BEST MID-SCALE COMPANY
Acosta Danza
Ballet Black
Lost Dog
Mark Bruce Company
National Dance Company Wales

BEST INDEPENDENT COMPANY
Alleyne Dance
Burrows&Fargion
Matsena Productions
Rhiannon Faith Company
Thick and Tight

BEST CLASSICAL CHOREOGRAPHY
William Forsythe for Forsythe Evening (English National Ballet)
Jess and Morgs for Coppélia (Scottish Ballet)
Crystal Pite for Light of Passage (The Royal Ballet)
Alexei Ratmansky for Giselle (The United Ballet of Ukraine)
Christopher Wheeldon for Like Water for Chocolate (The Royal Ballet)

BEST MODERN CHOREOGRAPHY
Ivan Blackstock for Traplord (Sadler's Wells x 180 Studios/ The Factory/Altruviolet)
Ben Duke for Cerberus (Rambert)
Ben Duke for Ruination (Lost Dog)
Aakash Odedra and Hu Shenyuan for Samsara (Aakash Odedra Company)
Benoit Swan Pouffer for Peaky Blinders:
The Redemption of Thomas Shelby (Rambert)

EMERGING ARTIST AWARD
Musa Motha (Dancer, Rambert)
Jake Roxander (Dancer, ABT Studio Company/ABT)
Beatrice Parma (Soloist, Birmingham Royal Ballet)
tyroneisaacstuart (Dancer and Musical Artist)
Rhys Antoni Yeomans (Dancer, English National Ballet)

OUTSTANDING FEMALE MODERN PERFORMANCE
Anique Ayiboe as The Chosen One
in Rite of Spring (École des Sables))
Jemima Brown as Clorinda in Clorinda Agonistes (Shobana Jeyasingh Dance Company)
Zeleidy Crespo in 100% Cuban (Acosta Danza)
Naya Lovell as Grace in Peaky Blinders: The
Redemption of Thomas Shelby (Rambert)
Zizi Strallen as Lana in The Car Man (New Adventures)

OUTSTANDING MALE MODERN PERFORMANCE
Jean-Daniel Broussé as Hades in Ruination (Lost Dog)
Israel Galván in La Consagración de la Primavera (Compañia Israel Galván)
Musa Motha as Barney in Peaky Blinders: The
Redemption of Thomas Shelby (Rambert)
Guillaume Quéau as Thomas Shelby
in Peaky Blinders: The
Redemption of Thomas Shelby (Rambert)
Hu Shenyuan in Samsara (Aakash Odedra Company)

OUTSTANDING FEMALE CLASSICAL PERFORMANCE
Constance Devernay-Laurence as Swanilda
in Coppélia (Scottish Ballet)
Francesca Hayward as Tita in
Like Water for Chocolate (The Royal Ballet)
Fumi Kaneko as Odette/Odile in Swan Lake (The Royal Ballet)
Marianela Nuñez as Natalia Petrovna in
A Month in the Country (The Royal Ballet)
Maria Pagés in An Ode to Time (Compañia Maria Pagés/Flamenco Festival)

OUTSTANDING MALE CLASSICAL PERFORMANCE
Manuel Liñán in Viva! (Compañia Manuel Liñán/ Flamenco Festival)
Bruno Micchiardi as Coppelius in Coppélia (Scottish Ballet)
Vadim Muntagirov as Crown Prince Rudolf
in Mayerling (The Royal Ballet)
Marcelino Sambé as Pedro in
Like Water for Chocolate (The Royal Ballet)
Joseph Taylor in the title role of Casanova (Northern Ballet)

OUTSTANDING CREATIVE CONTRIBUTION
Bob Crowley (Designer, for Like Water for Chocolate)
Roman GianArthur (Composer, for Peaky Blinders: The Redemption of Thomas Shelby)
Mikael Karlsson (Composer, for Hotel)
Paco Peña (Director and Guitarist, for Solera)
Joby Talbot (Composer, for Like Water for Chocolate)

The event will also play host to the De Valois Award for Outstanding Achievement for which there are no prior nominations. Although there was a wide spread of nominations covering a record 28 separate companies, The Royal Ballet once again tops the list with a total of 14 nominations (down from 17 in 2021), followed by English National Ballet and Rambert (7 each), Birmingham Royal Ballet (5) and Scottish Ballet (4). In terms of individual productions, The Royal Ballet's Like Water for Chocolate and Rambert's Peaky Blinders: The Redemption of Thomas Shelby top the list with five nominations each. Announcing the nominations, the Deputy Chair of the National Dance Awards, Debra Craine, said: "There is a rich assortment of dance amongst this year's nominees. Although ballet still gathers the biggest share of nominations, there is a strong contingent from contemporary dance and flamenco."

The Chair of the National Dance Awards, Graham Watts OBE, added: "This has proved to be another strong set of nominations as we got back to a full year of live theatre and dance. The dance critics will have a very difficult job choosing from these outstanding nominees, any one of which would be a worthy winner."




© All rights reserved