News
"La Bayadère" by Aaron S. Watkin returns on stage with Sempeoper Ballett
14/02/2023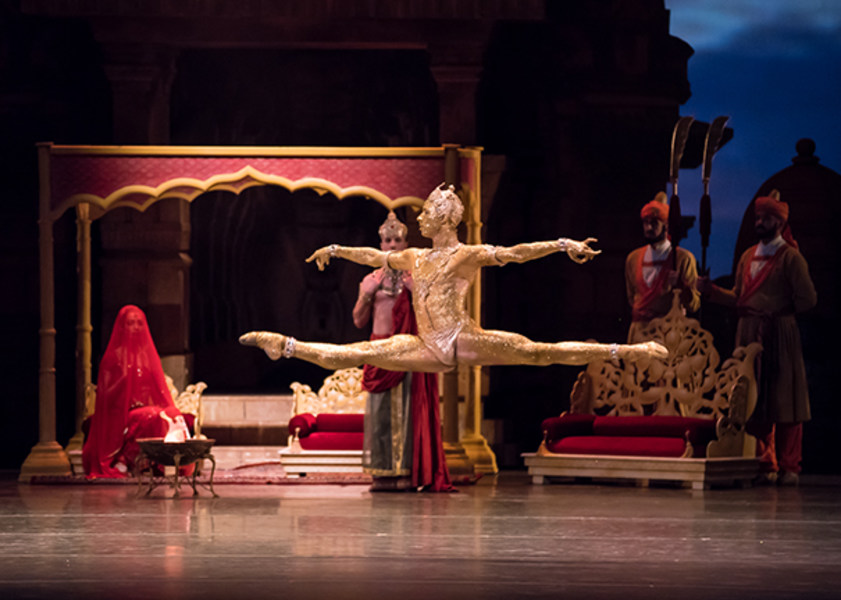 La Bayadere", Rodrigo Pinto (Ph. Ian Whalen)
DRESDEN The company of Semperoper Ballett will present the love story of the temple dancer Nikiya and the warrior Solor on several evenings from 15 February 2023, before the Semperoper curtain finally closes for good on »La Bayadère« on 5 March 2023.
In November 2008, Aaron S. Watkin premiered his choreography, inspired by Marius Petipa, at the Semperoper. Almost 15 years later, the work will now be performed again in what will also be the last Dresden season of the outgoing ballet director. Several ensemble members are making their role debuts in this run of "La Bayadère", including principal Kanako Fujimoto as Nikiya,
first soloists Gareth Haw and Vsevolod Maievskyi as Solor, as well as Anna Nevzorova and Ayaha Tsunaki as Hamsatti.
Almost 150 years after its St. Petersburg premiere, this "grand spectacle" still captivates fans of classical ballet with its visual opulence and enchanting music by the Austrian composer Ludwig Minkus. Of the work's various scenes, the famous and magical climax in "The Kingdom of the Shades" was in its day a truly groundbreaking creation.
In the Semperoper's current season, this vision of a strange, fairy-tale world, sensitively staged by Aaron S. Watkin with a respectful view of foreign cultures, will be performed for the very last time. The Dresden Staatskapelle will perform Minkus's score under the baton of Tom Seligman.

»La Bayadère«
Story and choreography by Aaron S. Watkin after Marius Petipa
Final run begins at 7 pm on Wednesday, 15 February 2023
Additional performances until 5 March 2023
© All rights reserved